Travel & tourism is one of the highest grossing industries on the planet. In fact, the major proportion of the GDPs of many countries is from tourism alone. Having said that, we cannot overlook the roles of the biggest stakeholders of this billion dollar industry -online travel companies.
Statista predicted online travel market as a magnet for startups and gave the following stats to prove its point-
In 2015 itself, the online travel market grew by over 6% from the previous year. It generated over $564.9 billion, which they forecasted will grow over $817.5 billion by 2020. In 2018, the expected market was somewhere near $693.91 billion.
The businesses in the online travel industry have been trying hard to drive as many conversions from this multi-billion industry. They rely on their websites, mobile apps, travel blogs, social media handles, and various marketing channels to engage and retain potential customers.
The primary marketing channels most of them have been using are email and different social media platforms. No doubt, these channels work well enough. However, what if I tell push notifications are best for online travel companies? With some strategic approach, push marketing not just works like a charm but also boosts the success rates on various other verticals too.
For instance, push notifications open new doors to the new prospects, which emails -the most popular marketing channel as of now cannot. Let me explain to you how.
Push notifications as compared to emails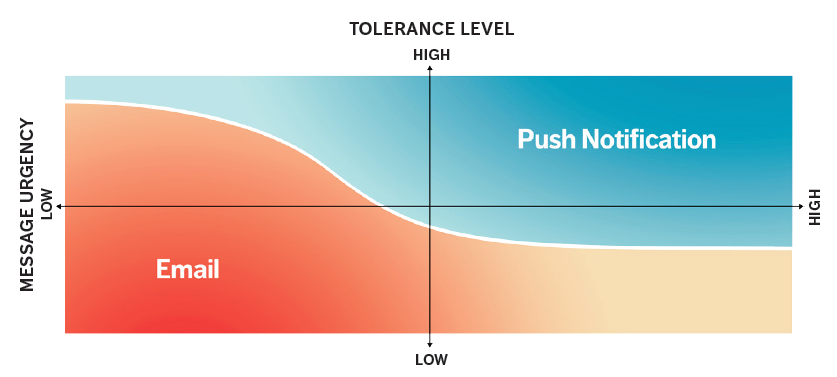 The way push notifications work itself is an upper hand on email and even SMS marketing.  They are more relevant and deliver precise content to the correct audience. Not just that, Push notifications are more accurate than email new letters when it comes to delivering your marketing communications to the prospects.
This can be cleared by the fact that push notifications receive an average of   98% open rate, while emails go maximum up to 22% for the same. I know it's hard to digest, but admitting most of the marketing emails die in the spam filters, it is not that hard to believe. Contrastingly,
Push marketing have no spam filters
Subscribers need not to share their personal information
They are delivered instantly in real-time
They get impressive click through and open rate
They offer a higher degree of personalization using segmentation
50% of users like push notifications and think they are helpful.
Having said that, it's my duty now to explain how push notification for Travel companies work to give a better numeric in terms of marketing and engagement. Before that, if you want to learn more about the pros of push notifications over the traditional marketing channels, you can read in detail from my infographic called "Comparison of Push notifications vs SMS vs Email marketing Infographics".
How to get a push marketing tool for your travel company?
Well, there are possible ways to adopt a push notification tool/service for a travel company:
Get a SaaS-based push notification service
Get a self-hosted push notification tool
You can choose anyone from the two options. There are numerous push marketing tools in each model. However, if you wonder which one is better for your kind of business, my comparison of Pushmaze's self-hosted tool with SaaS options will come handy, check it out.
How to integrate a push notification tool?
You can integrate your purchased push notification tool/service in three possible ways:
Integrate it with your mobile app.
However, if you don't have a mobile app for your travel business, and you rely on your website for the business, it's even better. Don't buy a simple push notification tool then. Purchase a web push notification tool. These tools do not need mobile apps, you can use them on your websites itself.
Integrate a web push notification tool on your website.
Integrate the same on your travel blog too.
Pushmaze is a web push notification tool, you can learn more about how to integrate PushMaze on your websites from the knowledge base. Don't worry, you don't have to go through all those tricky setup parts. PushMaze offers free installation and deployment service, the team will take care of it
Best Push Notifications Practices for online travel companies
After setting up your tool, let's now just jump into the push notification best practices to make your push marketing campaigns a path of a flower bed. We will comprehend the ultimate ways to get the best ROI by adopting push notification for travel websites, travel blogs, or any travel company.
Always plan an opt-in strategy
You cannot set a push notification to your customers unless they subscribe to them. Especially, the web push notifications work only when your website visitors subscribe to them from the opt-in box. Getting opt-ins is the toughest task in push marketing. You should devise a proper strategy to not only entice the opt-ins but also boost subscriber retention. You can do that only when relevant users are opting-in to your notifications.
How to get opt-ins?
A rookie push marketer will simply trigger the following kind of opt-in box to get the subscribers:
It's a huge mistake. Know that your subscribers don't seek notifications. They are more interested in information. The more you inform of the consequences of subscribing to your alerts, the more relevant users will subscribe.
A simple opt-in text works purely on fate. It does not tell anything about the nature of the notifications subscribers would receive. It could relevant or not related at all.
The best way to get more opt-ins from relevant users is by tailoring the opt-in box to accommodate as much information as possible. Elucidate the type of notifications they would get after subscribing to your alerts. Instead of simple "Allow" and "block" options, give a more interactive choice.
Design it something like this-
For example, if you are conducting the opt-in drive for your travel blog, you can use the fancy texts land options like –
Text: "We post regular reviews and travel experiences in our blog for different destinations"
Choices: "Educate me"; "traveling isn't my thing"
Bottom line: This small tweak makes the opt-in box extremely informational. Now the users have a clear comprehension of what they would miss if they block the notifications. Even the block option is more informative.
Conduct audience research and segment them
Relevance and marketing are inseparable. Marketing something to someone who is not interested in it would have no ROIs. You need to know your audience, their pain points, and solution to their problems. Then only you can represent your business to them.
The ultimate way to establish relevance in your push marketing campaigns is segmenting the subscribers in different groups. Based on certain aspects, keep a similar audience in the same segment. For example, you can make the segments like –
US Time zone
UK Time zone
Male/Female subscribers
New York location
Europe customers etc.
You can create as many segments based on aspects like age, location, Sex, real-time location, purchase history, booking history, devices, browsing behavior and visit type, etc.
Based on the segments, you can send different types of notifications relevant to each segment. For example:
Flight Schedule update for current bookings
Price drop on a wish list destination
Weather forecast of popular destinations
Ne content posted on the travel blog etc.
Proper audience research will help you create as many segments, and as many segments will help you trigger as many relevant notifications. Not just that, you can even decide the timing and correct frequencies of your alerts for respective notification types. For example-
Daily blog updates
Weekly top destinations update
Hourly flight schedule update
Daily travel tips
Immediate transaction updates etc.
Examples of best push notifications for travel companies
Based on the above two best practices, you can now create different types of notifications. Here are a few examples of some creative push notifications for travel companies:
a.       Geo-targeting and geo-fencing
Send notifications triggered through geo-targeting. Notifications that are relevant to the users in a particular location. For example, a notification to a flight customer to inform the belt number at the airport for luggage collection.
b.      Alert for new offers
Update customers of new plans, packages, offers, discounts, etc.
c.       Alert about new destinations
Tell them out new destinations added to your site.
d.      Update booking details
Tigger transactional alerts to inform them of important aspects.
e.       Update change in flight schedules
Inform about change in schedule to the customers who have booked flights with you.
f.        Reminder for upcoming trips
Remind them of the upcoming trips in their booking history. You can use the reminder to upsell value-added services.
g.       Update new blogs posted of booked destination
Send push notification for travel blogs and content posted on your site.
In addition to the above examples and Best Push Notifications Practices, you can rely on the following tips to keep your notifications relevant and interesting:
Know the best time to send notifications
If a push notification is not timed correctly, getting an ROI or conversion is just impossible. In a wrong time frame, users may simply see and clear your alerts without reading. Such notifications bring no action or value to your investments.
So always know the perfect time to send a particular notification. The following tips will help you decide the same:
Consider time-zones and do not send late in the nights or early in the morning.
Prefer late morning, evening or day-time hours to send engagement alerts
Use different time-frames for different type notifications. For example, morning is the best time to send alerts on new blogs posted. Same goes to NEWS digests.
Bombardment of frequent notifications will lead to opt-outs. Do not be insanely frequent your alerts.
Plan more preference based notifications
Marketers use behavior-based targeting to trigger automatic notifications. Many a time, behavior-based notifications surprise to the users. These notification are decisive in re-marketing, but not very effective in engaging the customers.
Localytics says 58% of people don't like behavior-based notifications. Also, over 49% of users prefer preference-based alerts as they are useful and users choose them by themselves.
Don't rely on automated behavior based alerts, otherwise, you might lose all those 58% of your subscribers instantly. Use more preference-based alerts and let users control what they want to receive and which one to block.
For example, if you run a travel blog, you can let your subscribers set the preference of different categories or topics of blogs they want to stay posted about. For example Adventure trips, Overnight trips, bike trips, local cousins, etc.
Conclusion
The online travel business is a huge sphere. From hotel booking, vocational rentals, car rentals, to flight booking, there is no shortage of operatives in can consist. Each operative uses different ways to capitalize the marketing efforts. It's all about your creativeness and innovative push alerts. You can boost your business to a great extent using push notification for travel websites, blogs, or booking portals. If you have been relying solely on email newsletters to engage your customers, push notification for travel companies are some amazing marketing techs to try out.